Desire Becomes Her
Book #6 (Becomes Her series)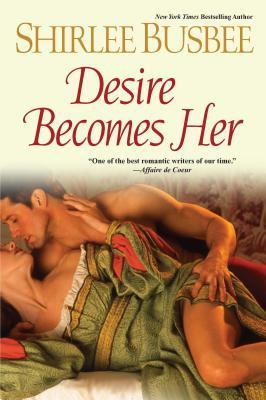 By: Shirlee Busbee
Quote: " It's my house and I can speak my mind if I want to. If your fine friend don't like it, Broadhaven sports two inns- he can put up there and take you along with him." ~ Silas (pg.74)
paperback/390 pages
From the cover:
A Perilous Temptation
Gillian Dashwood's wastrel husband wagered away her fortune. His scandalous murder ruined her reputation. Still, she'll do whatever it takes to protect her beloved elderly uncle from Lucian Joslyn, the cool-headed gambler whose arrival is as mysterious as his newfound fortune. Once Luc makes it clear he is certain Gillian herself anything but innocent, she's determined to reveal the truth about him. But the shimmering desire that draws them even closer threatens those with vengeful secrets to keep. Now, trusting each other is a hazard Gillian and Luc never imagined- and a chance at enduring love is the one peril they can't resist...
My Review:
I have to say I have enjoyed all 6 of the books in this series. While they aren't super suspenseful, tragic, historical or factual like most of the books I prefer to read, I enjoy this author and love a good romantic, easy read from time to time.
As with most series, this book starts out by pulling in a character from the previous book and takes off with their story.
In this book it is Lucian Joslyn( Luc), the illegitimate half brother of the new Viscount, Barnaby Joslyn.
Luc has a reputation for being a womanizer and a gambler. Although he has been on the outskirts of proper society things are changing.
I loved how this book pulls out his softer more "gentlemanly" side and how he learns to trust and follow his heart.
It also showed a great bond between brothers and how there is still a bond whether you were raised together or not.
Definitely has the adventure and mystery factors included.
A classic "who done it?" Wonderful characters and dialogue throughout.
I gave it 4 stars!
Happy Reading!